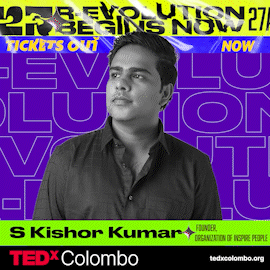 S.Kisho Kumar
– Founder, Organization of Inspire People:
S.Kisho Kumar is a dedicated social activist, independent researcher, and documentary photographer based in Central Sri Lanka. For the past 15 years, he has tirelessly worked to uplift the plantation community, focusing his research on crucial issues such as school dropouts, teenage pregnancies, and challenges faced by migrants. Recently, Kisho organized a thought-provoking documentary photography exhibition titled "Hills of Neglect," shedding light on the political sensitivity and hardships endured by the plantation community.
Kisho's impact goes beyond research and documentation. He has conducted over 300 capacity-building programs to address school dropouts and provided guidance and counselling to more than 1,500 victims of sexual abuse. Moreover, Kisho launched an innovation lab that empowers individuals from the grassroots level, nurturing them to become social entrepreneurs and innovators. Through his relentless dedication and commitment, Kisho Kumar continues to inspire positive change within communities.