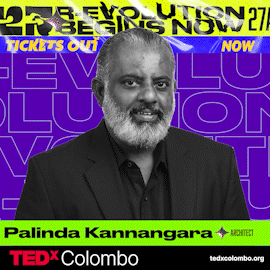 Palinda Kannangara
– Architect, Palinda Kannangara Architects:
Palinda Kannangara is an esteemed architect known for his unique approach to design and his deep connection with the natural environment. With a background in Mathematics and Architecture, Palinda's architectural journey began under the tutelage of Sri Lankan modernist architect Anura Rantavibhushana, who had previously worked closely with Geoffrey Bawa. In 2005, Palinda established his independent practice, Palinda Kannangara Architects.
Palinda Kannangara Architects is renowned for creating experiential architecture that embraces simplicity and harmonises with its surroundings. Their portfolio showcases a diverse range of projects spanning Sri Lanka, including the dry zone, wetlands, and coastal regions. Each project reflects a contextual sensitivity, meticulous material selection, and a minimalistic aesthetic that resonates with the Sri Lankan ethos. Over the course of 18 years, the firm has garnered numerous national and international accolades, such as the RIBA International Awards for Excellence in Architecture 2018 and 2021, as well as the Geoffrey Bawa Award for Excellence in Architecture 2020/2021. Their exceptional work has also been featured in the esteemed El Croquis monograph 212.